On July 20th, Windward Community College's Center for Aerospace Education presented the Apollo11 Family Spacefest at its Kaneohe campus to celebrate the 50th anniversary of Apollo 11 and man's first landing on the moon. Some 3,000 community members attended this all-day event.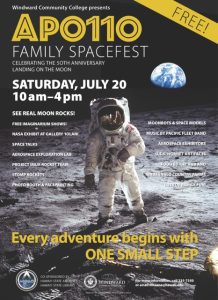 Spacefest served as a reminder to Hawaii's community of the intimate connection between our rich heritage of Polynesian seafarers and today's bold spacefarers—which is appropriately captured in the word astronaut—meaning star-sailor.  The activities at Spacefest were selected to encourage Hawaii's students to explore STEM-based studies and consider careers in aerospace sciences and technology. Spacefest's ultimate goal was to ignite the imagination of our youth and inspire them to learn, explore and take risks to fulfill their dreams—to encourage them to follow in the footsteps of Apollo 11's courageous astronauts. Spacefest's theme embodied this aspiration: Every adventure begins with one small step.
Sponsored by Windward Community College, the Hawai'i State Archives and the Hawai'i State Public Library System, Spacefest provided a variety of family activities, including Apollo 11 and 17 moon rocks at a NASA exhibit in Gallery 'Iolani, fulldome planetarium shows at the college's Imaginarium, hands-on activities at the Aerospace Exploration Lab, special guest speakers on spacefaring and seafaring, aerospace exhibitors, stomp rocket construction under the guidance of the college's Project Imua rocketry team, an Apollo Moon Walk and First Words on the Moon activity, space-themed face painting and photo booth, music by the US Pacific Fleet Band Harbor Brass, and food and refreshments for the entire family.